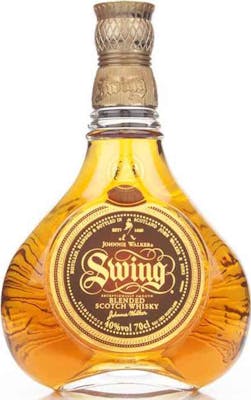 SKU: 088076164116
Johnnie Walker Swing
---
---
Johnnie Walker Swing is a luxurious blended Scotch whisky in a unique glass decanter, which swings to and fro on a convex base. It was originally created by Sir Alexander Walker, master blender par excellence and grandson of John Walker, during the golden age of travel in 1932. On transatlantic voyages, barmen desperately stowed loose bottles onto racks to prevent breakages caused by the unrelenting pitch and roll of stormy weather on the high seas. But one bottle rode the ocean waves like the most experienced of sailors, swinging elegantly back and forth and - in keeping with the Johnnie Walker philosophy - never losing its balance. Cradled within this bottle lay a blend of Scotch whisky with a light yet luxurious depth of flavor. Today, a global audience of sophisticated international travelers continues to recognize Swing as one of the most luxurious blends of Scotch whisky available, proving that true quality is indeed timeless. Up to thirty-five individual whiskies are used in the creation of Swing®, each carefully selected by the master blender, whose task it is to consistently reproduce the original character of the blend devised by Sir Alexander Walker. The blend contains a high proportion of malts from Speyside, where the single malts are noted for their elegance and complexity. Complementing them are malts from the northern Highlands and Islay, adding richness, spice and weight. Some have been matured in sherry casks over several years to gain richness, whilst others are lighter and aromatic. The result: a luxurious flavor that's light in the foreground, with sweet mouth-watering depth developing on the palate. Appearance: Rich tones of old gold. Nose: Complex and sophisticated with almost perfumed sweetness; soft and accessible with vanilla and sherry-cask wood notes wafting through. Palate: Smooth and sweet, with a light freshness that cloaks a deeper fruitiness; some smoke and restrained oak flavors. Finish: Lengthy and rich, reverberating with sweetness. The serve: On the rocks, neat or diluted with water.
M & M Liquor and Market
Are you 21 years old, or older?