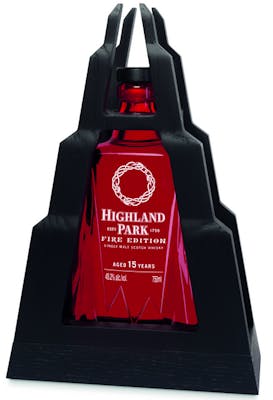 SKU: 812066021642
Highland Park Fire Edition 15 year old
---
---
The Poetic Edda tells the tale of the apocalyptic battle between the Gods and the Fire and Ice Giants, where the old world perished in a blazing ball of fire and the new world was born from its ashes. Celebrating this re-birth, or Ragnarok, we released 28,000 bottles of FIRE EDITION, encased in specially commissioned crimson glass. Matured in 100% refill Port seasoned casks - a first for Highland Park - the result is a vibrant single malt with the natural hue of glowing flames. Here, damsons, cinnamon, dried fruit and chocolate dance on the tongue, before sizzling to an intense fruity finish.
M & M Liquor and Market
Are you 21 years old, or older?