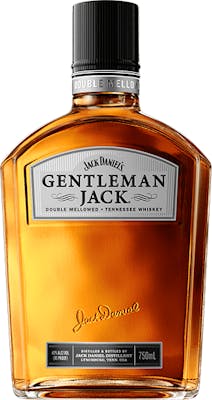 SKU: 082184038727
Jack Daniel's Gentleman Jack
---
---
Just like Jack Daniel's Tennessee Whiskey and Jack Daniel's Single Barrel, Gentleman Jack is charcoal mellowed before going into the barrel. Gentleman Jack, however, receives an additional "blessing" when it is charcoal mellowed again after reaching maturity - making it the only whiskey in the world to be charcoal mellowed twice, giving it ultimate smoothness. Gentleman Jack is full-bodied with fruit and spices, and its finish is silky, warm, and pleasant. When you drink Gentleman Jack, do so with pride, for this is the whiskey a gentleman orders.
This honey-colored whiskey is mellow, smooth, mouthwatering and delicious. Rich and pretty caramel and citrus aromas precede complex flavors of leather, tobacco, vanilla and cocoa. Its long finish displays lots of caramel, spicy cinnamon and ginger. Pair with a cigar.
M & M Liquor and Market
Are you 21 years old, or older?