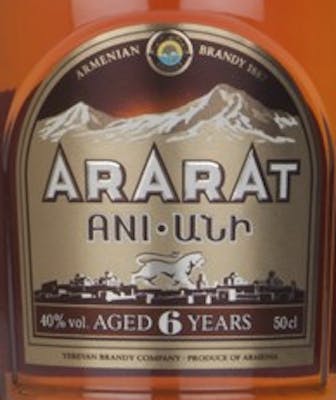 SKU: 4850001001980
Ararat 6 Ani Brandy 6 year old
---
---
Amber color with a spark of chocolate. Bright, spicy and fresh aroma. Light overtones of orange and vanilla with a touch of almond in the bouquet. Intense and long-lasting taste. Clearly expressed sweetness makes it more rounded. Transition to the shades of lemon and dried fig, slightly acidic aftertaste. The Mighty Ani, the capital of the Bagratuni Kingdom, was first mentioned by Armenian chroniclers in the 5th century as the "City of 1001 churches" or "City of forty gates". It was already the most important hub of its time for the various caravans journeying along the Silk Road, and the population of Ani reached as many as two hundred thousand people. The capital of the Bagratuni Kingdom rivaled the greatest cities of the time - Constantinople, Baghdad and Cairo. Its numerous temples, palaces and fortifications were amongst the most technologically and architecturally advanced in Europe. The main gate of the city that survived to this day depicts a leopard - the symbol of Ani.
M & M Liquor and Market
Are you 21 years old, or older?
-->